Scooters and Mopeds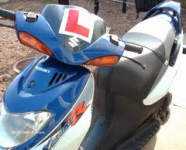 After you have completed your CBT if you wish to take further training to gain a full licence then we can proivide the necessary training sessions.
Lessons are 2 hours long with 2 pupils per instructor (occasionally 3 at peak demand, only if riding is good enough though), bike-to-bike radio, debrief and post lesson discussion on what to do next. One customer will not be on the "lead" bike for the entire lesson, but the instructor's comments can be heard by the other pupil and we believe customers not only gain knowledge from the instructor but by observing other riders' actions as well as thinking about and planning their own.
When the right standard of riding is reached, we will organise the necessary DSA practical tests.
---

We have 125cc and moped automatic scooters for those who wish to take the automatic test.
To see a how a moped or automatic scooter licence is obtained click here.
---
For prices on scooter lessons please see our Price List.